Galaxy Tab AV Conference Room Capsule - Space Kiosk
- Compatible Versions: Galaxy Tab A 8 / Galaxy Tab Active 2 8.0 / 10.1 / 10.5, Galaxy Tab S4 10.5, Galaxy Tab Pro S 12 / Galaxy Tab A7
- Audio Video Conference Room Console, Check-in kiosk, Self-service kiosk
- Quick Lock and Unlock Keyed Lock
- Conceals charging cable
- Compatible with our Security Cable Lock From €159.90 You save 0 (0%)
Galaxy Tab AV Conference Room Capsule - Space Kiosk
Quick lock&unlock keyed lock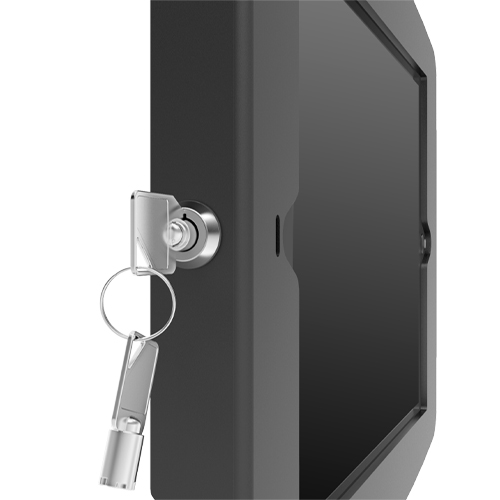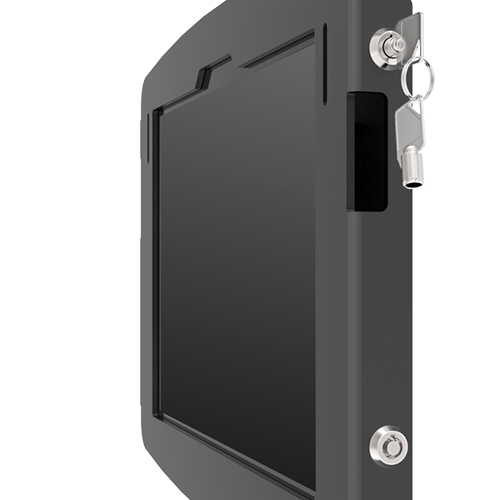 For Galaxy Tab Pro S enclosures
Cable management allowing continuous charging while mounted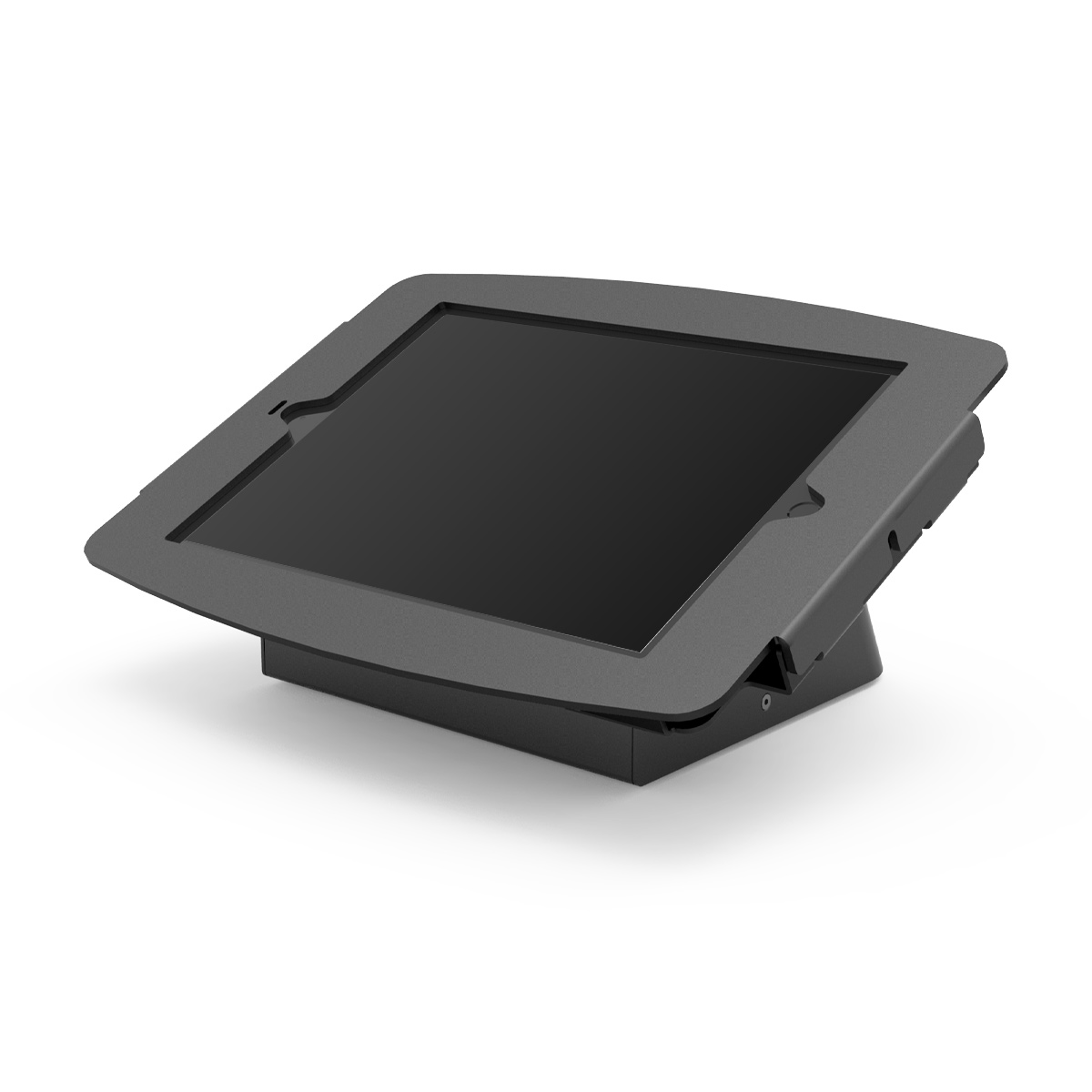 High-grade steel stand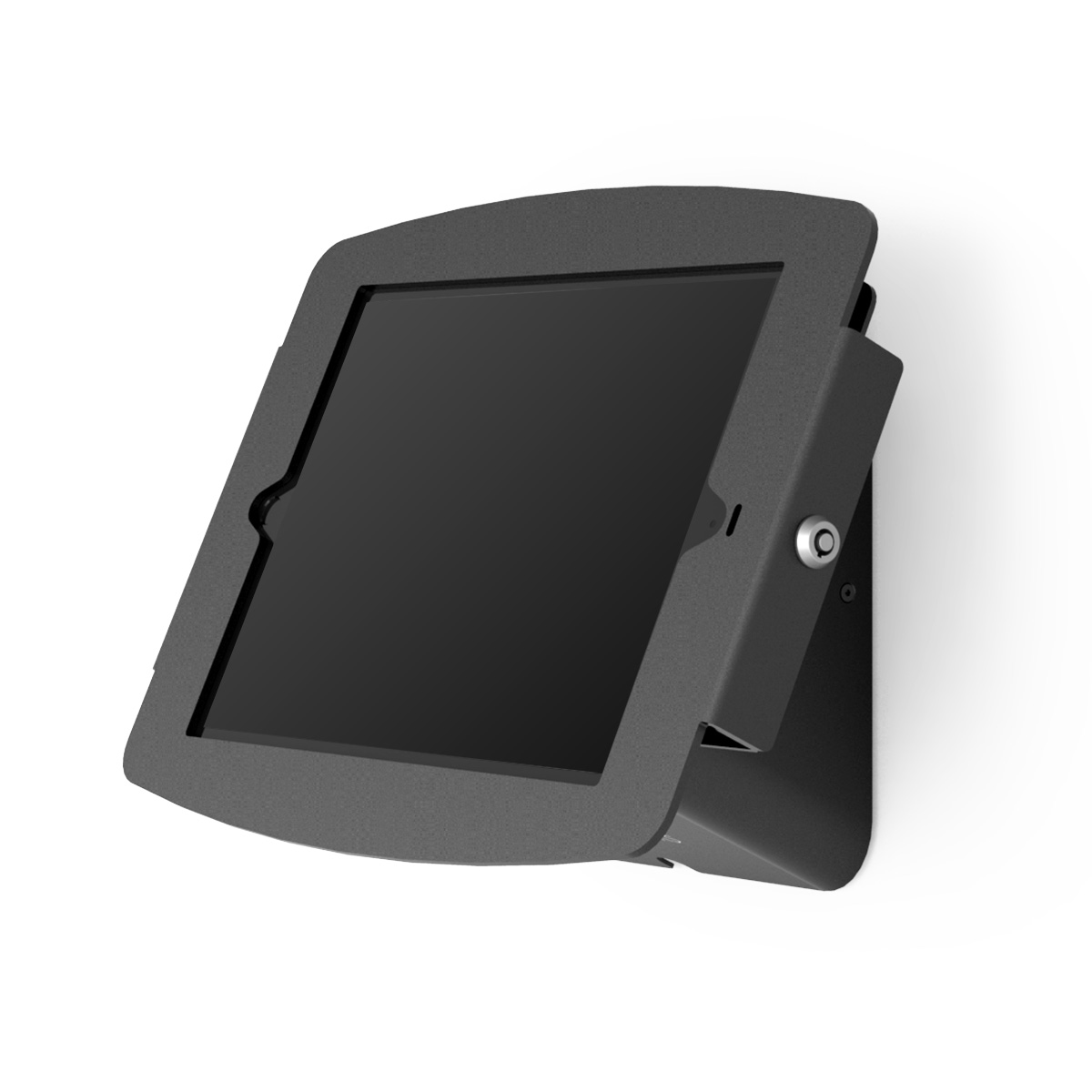 Wall mount option
Optional swivel base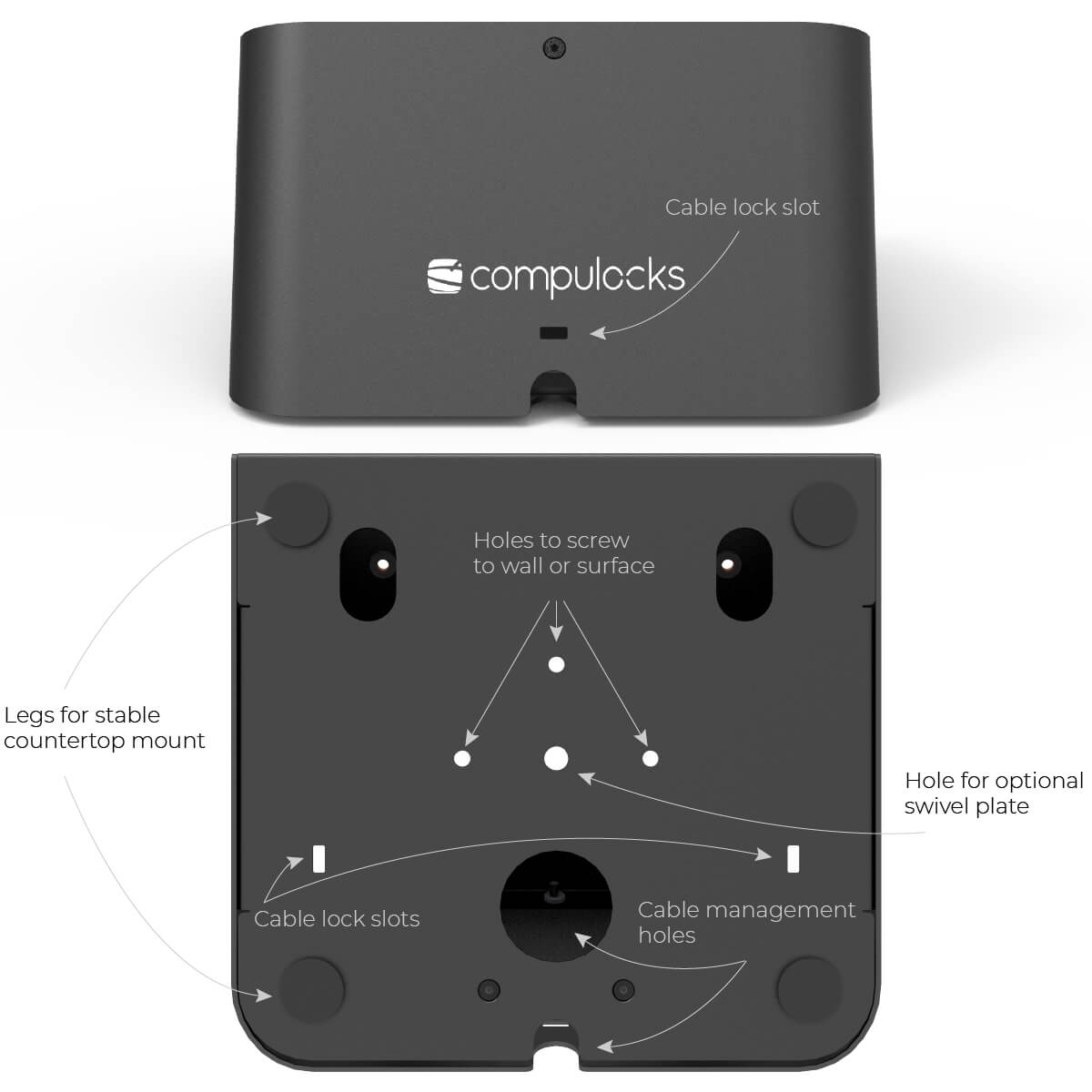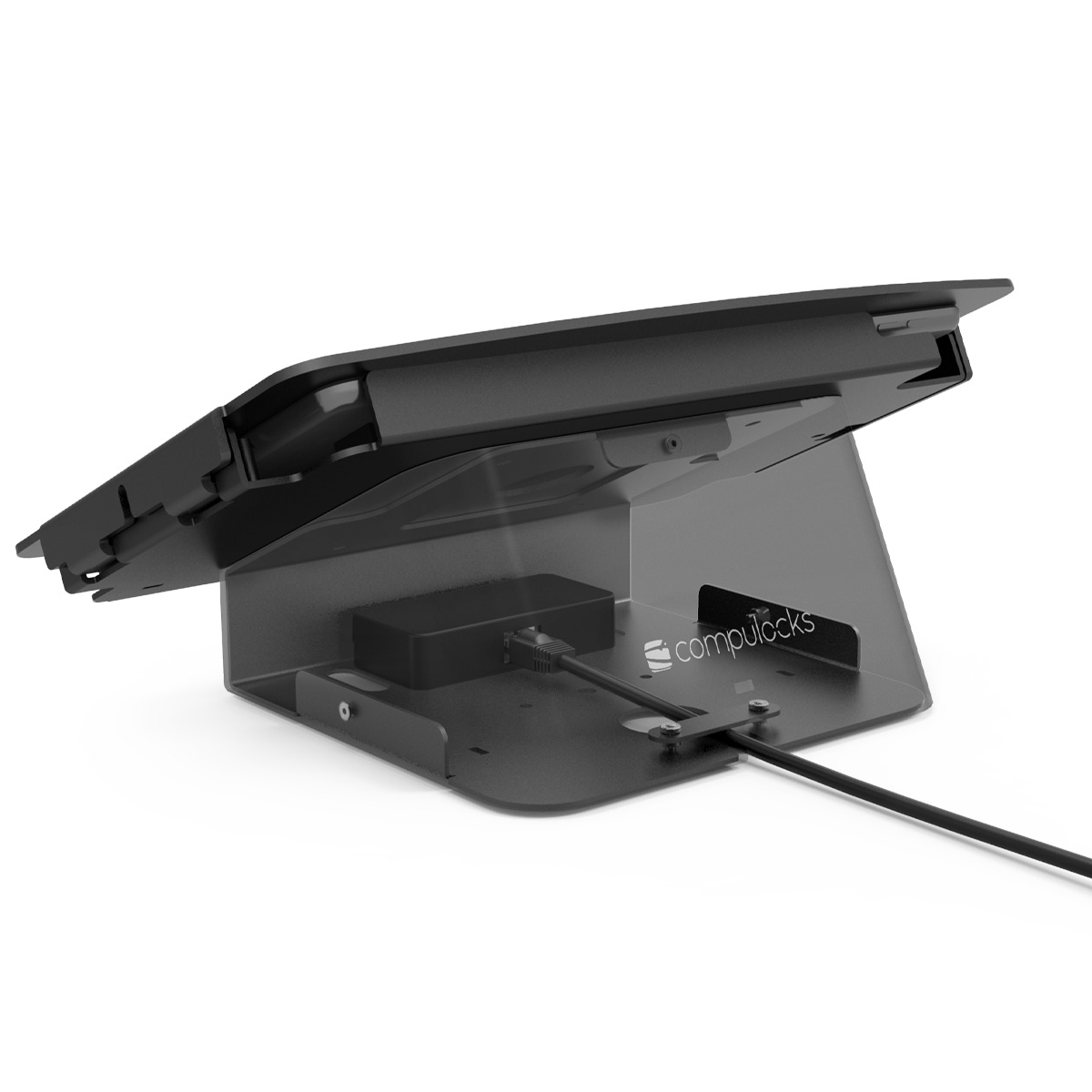 Cable management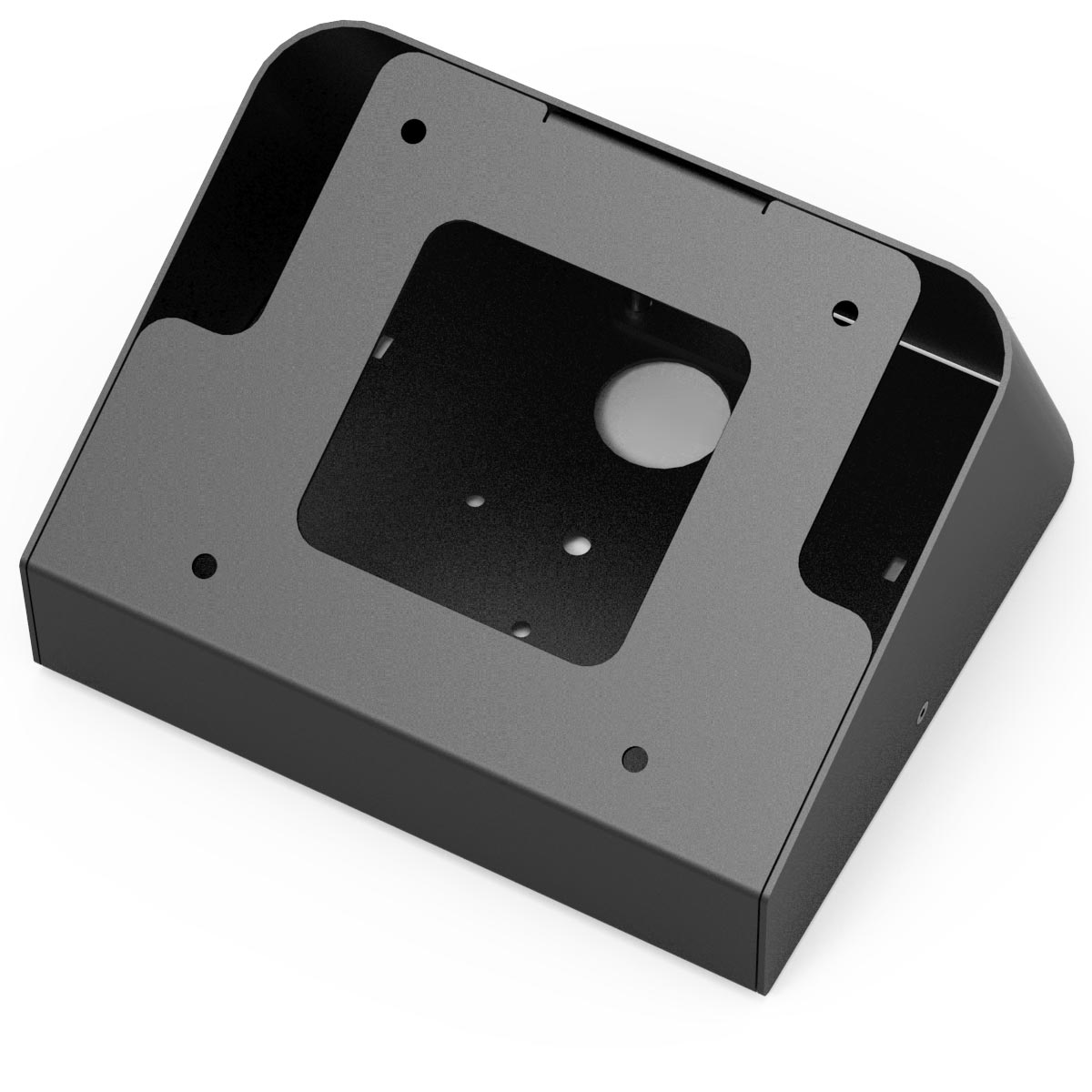 100x100 VESA mount
Enclosure Versions for:
- Galaxy Tab A 8 / 10.1 / 10.5/ A7
- Galaxy Tab Active 2 8.0 (without its protective case)
- Galaxy Tab S4 10.5
- Galaxy Tab Pro S 12

The Space Console is a secure tablet kiosk with a 25-degree viewing angle, ideal for any meeting room table for video conference management (Zoom rooms, Google Meet, Microsoft Teams...), telecommunication applications but also for telepresence, self-check-in, self-ordering kiosk, etc.

The Space Galaxy Tab Enclosure features rounded edges and open corners for improved tablet ventilation and allows for limited access to buttons and inputs. It has a Quick Lock and Unlock keyed lock for extra safety.

As with all our Galaxy Tab enclosures, the tablet can be continuously charged and have peripheral cables plugged in while mounted, as they are managed at the back of the console for a clean look. 

The Capsule can be freestanding, bolted to the desk, or put on an optional swivel plate. Storage area and cable management are available at the back of the console for a clean look. The AV Capsule stand also features a lock slot for a cable lock to make it theft deterrent. The stand includes a hole for wiring (back as a table mount / bottom for wall mount). With soft edges and rounded corners, the attractive aesthetic look of this console fits all environments.
The storage space allows for concealing such items as a Battery Pack to allow for freedom of movement without the constraints of a charging cable. You can also secure the tablet charger inside while using an extension cord to plug into a local outlet. If no outlets are available but you have the provision for Power Over Ethernet (POE), the Power and or Power / Data adaptor can be hidden and secured inside the Capsule. Internally there is a cord relief clamp to prevent the cord from exiting the Capsule from being pulled out as well as adhesive pads for mounting items internally

Space Console Includes:
* High-Grade Aluminum Base
* Lockable High-Grade Aluminum Enclosure
* 2 Enclosure Keys
Stand

Name

Sku

Compatible devices

AV Capsule - Black

341B

100mm x 100mm VESA Compatible Mount

Choose Enclosure Model & Color

Name

Sku

Compatible devices

Galaxy Tab A7 10.4" Space" Enclosure - Black

104GA7SB

Galaxy Tab A7 | 10.4"| 2020 | SM-T500, SM-T505

Galaxy Tab A7 Lite 8.7" Space" Enclosure - Black (ETA mid-January)

870GA7SB

Galaxy Tab A7 Lite| 8.7"| 2021 | SM-T225, SM-T220

Galaxy Tab A 10.1" (2019), "Space" Enclosure - Black

1910GASB

Galaxy Tab A | 10.1" | 2019 | SM-T515, SM-T510

Galaxy Tab A 8.0" (2018/19), "Space" Enclosure - Black

1980GASB

Galaxy Tab A | 8.0"| 2018 | SM-T387 & SM-T387aa
Galaxy Tab A | 8.0"| 2019 | SM-T200 (wifi), SM-T250 (LTE), SM-T295 & SM-T387AA

Galaxy Tab E 8" / Tab Active 2 8" , "Space" Enclosure - Black

680EGEB

Galaxy Tab E | 8.0" | 2016 | SM-T377W, SM-T377W, SM-T375, SM-T377P, SM-T377R, SM-T380 (2017).
Galaxy Tab Active 2 | 8.0" | 2017 | SM-T390NZKAXSP (without protective cover)

Galaxy Tab A 8.4" (2020), "Space" Enclosure - Black

2084GASB

Galaxy Tab A | 8.4"| 2020 | SM-T307U

Galaxy Tab S 10.5", Space" Enclosure - Black

105SGEB

Galaxy Tab S4 | 10.5" | 2018 | SM-T830, SM-T835

Galaxy Tab A 10.5", "Space" Enclosure - Black

105AGEB

Galaxy Tab A | 10.5" | 2018 | SM-T595, SM-T590

Galaxy TabPro S, "Space" Enclosure - Black

912SGEB

Galaxy TabPro S | 12" | 2016 | SM-W700, SM-W703, SM-W707, SM-W708, SM-W708Y

Galaxy Tab S 5e (2019), "Space" Enclosure - White

725GSESW

Galaxy Tab S5e | 10.5" | 2019 | SM-T725, SM-T720

Galaxy Tab S 5e (2019), "Space" Enclosure - Black

725GSESB

Galaxy Tab S5e | 10.5" | 2019 | SM-T725, SM-T720
Customers also bought these products